"There are two things we take for granted everyday - time and health.
The moment you lose them, only then do you wake up."
Joost van der Westhuizen.
2020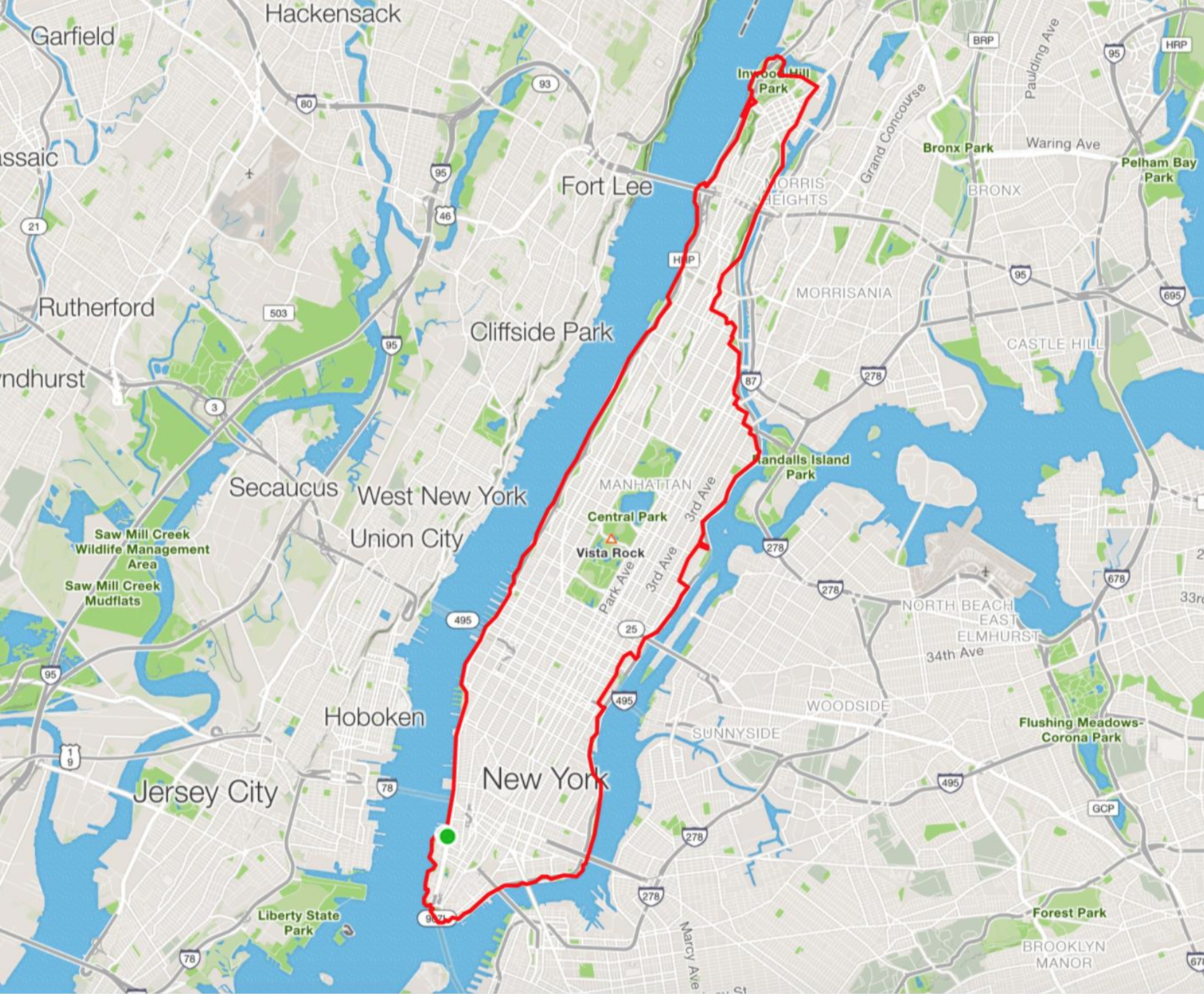 MANHATTAN PERIMETER RELAY
SATURDAY APRIL 25, 2020 - 9:00 AM START
A 32.33 Ultra-marathon around Manhattan Island. Join as a team of 4 (approximately 8 miles each), a team 2 (approximately 16.5 miles each), or go solo! Scroll down for more details or get in touch!
Team captains, gather the troops and sign up to conquer Manhattan Island. This is set up to be an informal fun run, rather than a race. Start and finish at Industry Kitchen. The route will be split up into 4 stations and teams (or solo runners) will need to pass through each station. We will celebrate with an after party at the finish line. All participants receive an official Run2Revive T-Shirt!
This is a self-supported run but Manhattan is not short of places to get food or water along the route. Feel free to go at your own pace and stop when you need to.
FRIDAY SEPTEMBER 25, 2020 - MONDAY SEPTEMBER 28, 2020

Cost: $995 per person + $1,000 fundraising minimum (Includes 3 nights shared accommodation, roundtrip ground transportation to/from Las Vegas, 6 meals, and park fees. Price does not include flights to/from Las Vegas, NV).
Deposit: $295 due upon registration. Final payment due by June 1, 2020. Your deposit is fully refundable until April 30, 2020.
GRAND CANYON RIM2RIM OVERVIEW
Join us for the 5th Annual Grand Canyon Rim2Rim Run, as we descend down the south rim, cross the Colorado River, and climb to the top of the north rim. With an elevation change of 5,000 feet from the south rim to the Colorado River, 6,000 feet up the north rim, and about 22 miles across, this is not a challenge to take on without some serious training. Those feeling really bold can conquer the Rim2Rim2Rim round trip challenge.
If you are fit, healthy, ready to take on a big challenge and want a running experience you'll never forget, join us for this epic adventure. Contact us if you are interested and want more information. Click here to see photos from previous years at the Grand Canyon.
Grand Canyon Itinerary
Day 1, Friday (September 25): Meet in Las Vegas.
Then Travel to Grand Canyon National Park for sunset. Your trip begins in Las Vegas, Nevada. Fly to Las Vegas, arriving at McCarran Airport in the morning in time to meet with the group (specific details will be provided upon sign up). We recommend arriving a night early if possible, to allow for some relaxation time and to avoid any problems with delayed flights or delayed luggage. From Las Vegas, we'll take a four-hour ride to our accommodations on the South Rim of the Grand Canyon National Park. Once settled, we will head over to the Canyon rim to take in the most incredible sunset. After sunset, we will enjoy a big dinner to prepare us for the weekend ahead. After dinner, an orientation meeting will be held allowing us time to get better acquainted with our traveling companions. Dinner, transportation, and accommodation included.
Day 2, Saturday (September 26): Run from South Rim to North Rim.
Time to run! You'll go at your own pace and have the opportunity to take photos along this spectacular route that takes us 5,000 feet down the Kaibab trail, we will pass Phantom Ranch, move along the Colorado, then head 6,000 feet north to the North Rim Lodge. An experience you will never forget! Be prepared for some steep descending / climbing. If you make it in time for sunset, sit back and relax in the North Rim Adirondack chairs, with breathtaking views over the canyon. We will finish with an incredible meal at the North Rim Lodge. Breakfast, dinner, and accommodation included.
Day 3, Sunday (September 27): Choose to shuttle back to South Rim or Run another 24 miles.
If you're feeling up to it, you can choose to return to the South Rim by foot. Following the same trail down to Phantom Ranch, you'll experience a 6,000 foot elevation change from the top of the North Rim to the bottom of the Canyon. We will take an alternative route up to the top of the South Rim, following the Bright Angel Trail. If the 22 miles from Day 2 was enough for you, you'll have the option to take a shuttle back to our accommodation on the South Rim and enjoy a relaxing morning before your scheduled departure. We will meet up on the South Rim for dinner and drinks to celebrate our epic journey in style! Breakfast, dinner, and accommodation included.
Day 4, Monday (September 28): Return to Las Vegas.
After a well deserved lie in, you'll enjoy a relaxing morning and a big breakfast on the South Rim before heading back to Las Vegas. What you do in Vegas is up to you! Breakfast and transportation back to Las Vegas included.